Egyptian Feteer Mesh
altet is served as a type of hospitality, or on holidays, occasions and weddings, in addition to its great social importance, as rural women attend it, and present it to relatives, neighbors, and guests. There are many varieties of this recipe that you will love its taste!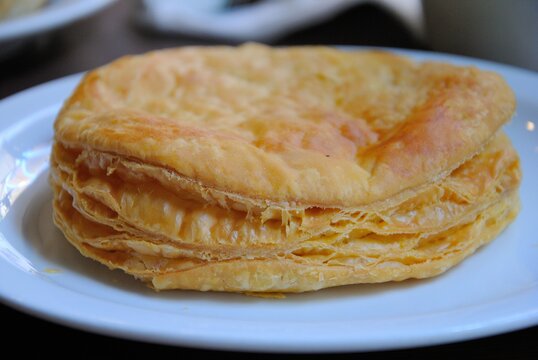 Feteer Meshaltet
Feteer Meshaltet is considered one of the oldest types of Egyptian recipes, and the origins of the recipe go back to the ancient Egyptians, and in the past it was called "Al-Maltout" pie, a Pharaonic word meaning applied; because it is made from many layers of dough, then it became Meshaltet.
Print
Pin
Comment
Ingredients
Three cups of flour

1

tablespoon

of sugar

1

glass of water

2

teaspoons

of lemon juice

1/2

teaspoon

of salt

3

tablespoons

of melted ghee

Corn oil
Instructions
Put the sugar, salt and flour in the bowl of a stand mixer and install the dough hook.

Run the mixer on a slow speed and add the water

Add the lemon juice slowly and continue kneading for two or three minutes until a smooth, elastic dough is formed.

Divide the dough into ten equal pieces and shape each piece into a smooth ball.

Put the balls of dough in a tray greased with oil, wrap them in nylon and leave them for half an hour to rest.

Put an amount of the ghee and oil mixture on the table and place a piece of dough on top of the ghee

Start stretching the dough with the palm of the palm until it becomes a very thin circle, taking into account the wiping of the dough with ghee as needed.

Bend the edges of the dough together to make a circle and set aside.

Repeat the steps with another piece, then place the previous piece in the center of the new piece and bend the edges of the dough with the piece in the middle.

Repeat the previous steps with all pieces of dough to get one disk of puff pastry, taking into account wiping with ghee whenever needed

Put the pie on a tray and leave it to rest for ten minutes before baking.

Preheat the oven to 200 ° C/390°F and put the pie for twenty minutes, until golden

Serve and enjoy your feteer!
Nutrition
Calories:
199
kcal
|
Carbohydrates:
10
g
|
Protein:
6
g
|
Fat:
3
g
|
Fiber:
3
g
|
Sugar:
2.5
g